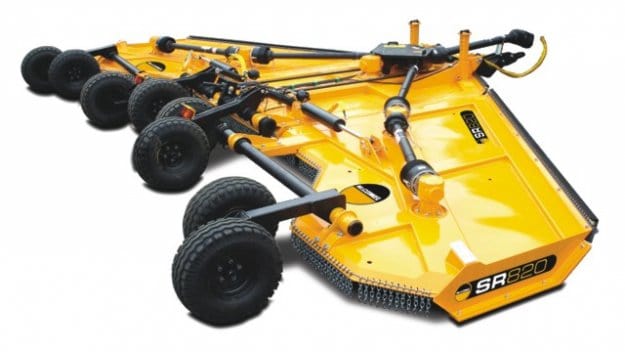 McConnel's largest and most productive mower, the SR820's fast cutting action and 8.2m working width enables operators to tackle as much as eight hectares an hour – making it one of the most productive mainstream rotary mowers on the market.
Ideal for large-scale farmers, local government teams, and professional mowing contractors, SR series machines can be used in a huge variety of applications from airports and sports venues to pasture and stubble. Despite its size it is highly manoeuvrable and folds easily to a safe transport width of just 2.8m.
OVERVIEW
The SR820 is designed for productivity with five high-performance rotors and a choice of 10, 15, 20 or 30 hardened updraft swinging blades that enable it to tackle material up to 50mm thick.
Reliability is enhanced by a six gearbox driveline, each with built-in slip clutch protection, ensuring the power is spread evenly across the cutting width. This feature also enables an even cut and spread and an attractive finish.
McConnel's range of high-performance delta wing rotary mowers has been designed to deliver peak performance over the ground with working widths from 4.2 to 8.2m, flexible wings, and powerful rotors.
Key features
8.2m working width
High and low hitch options
115 degrees of wing movement (+90o up, -25o down)
Bondioli & Pavesi gearboxes and drivelines
Five powerful rotors
1000rpm wide angle PTO
Slip Clutch Protection
Front and rear chain guards
Hardened updraft swinging blades
Cutting heights from 25mm to 400mm
50mm cutting capacity
Choice of 10, 15, 20, or 30 blades
5,340m per minute blade speed
Walking axles
FEATURES
Blade options
The SR820 offers operators a choice of cutting options, including a six blade shredder kit with four updraft blades and two special blades for improved mulching. A blade tip speed of 5,340m per minute ensures a powerful cutting action which makes light work of maize stubble.
Productivity
McConnel's SR series machines are fast and effective and deliver an attractive cut. The SR820's 115 degrees of flexibility also ensures it closely follows the contours of the ground making it equally as effective in undulating terrain.
Benefits
The largest machine in the SR range delivers exceptional productivity
An excellent stubble mulcher or airport mower
Cuts stubble low enough to prevent beetle infestation
McConnel's most productive range of mowers
Effective in a huge range of work environments
Proven track record for reliability
Customisable with a range of blade, hitch and shredder options
Wide range of cutting heights
Enables operators to switch quickly to and from the transport position
SPECIFICATION
Model
SR820
Working width
8.2m (26'11")
HP requirement
150
Weight
4100kg
Attachment
3-point linkage
Cutting height
25mm-400mm
Cutting capacity
50mm
Overall width
8.4m
Overall length
6.15m
Transport width
2.8m
Transport height
3.8m
PTO speed
1,000rpm
Protection
Slip clutch
Number of blades
10, 15, 20 or 30
Number of rotors
5
Blade overlap
111mm
Blade tip speed
5340m/min
Hydraulic wing flex
+90o up, -25o down
Number of wheels
8